The Gary I Remember - The Gary That Was
A bustling downtown Gary (1959) © Time
Lew Wallace H.S. 415 W. 45th Av. Gary, IN 46408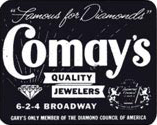 The place for The Fusion w/City Hall in background (Downtown)
Top 40 records & class rings Though I have never personally seen this, it looks pretty neat!
The local Oldsmobile Dealer Glen Park Branch of Gary Public Library
ANCO (Anderson Co.)
Y & W Drive-In
The State Theatre
St. Mark Catholic Church
501 W. Ridge Rd.
St. Joseph the Worker Catholic Church (Croation)
45th Av and Pennsylvania St.
Altar of St. Joseph's St. Constantine Greek Orthodox Church
St Sava's - 13th and Connecticut
Any/all photo contributions for this site are welcome. Please send them as an email attachment:
---
— There are remembrances about da' Region which may only be recalled in one's mind. We used to go fishing at the lighthouse in Michigan City. It was always a treat to take in the aroma emanating from the Smith Bros.™ cough drop factory. Other highlights of the Michigan City trips were to take in the free zoo at Washington Park, or to do a drive-by of the Indiana State Penitentiary. An aside - About 15 years ago I had an occasion to be in Michigan City. I stopped at the downtown tourist center and asked, "Where is the pen?" The young girl manning the booth had no idea what I was referring to, and my getting more frustrated did not help clear the channel of communication. Once I explained I was not seeking a writing instrument, but rather the state prison, directions were provided.
— Then there was the pervasive fear of being sucked into the underground river, running between Fancher Lake and Cedar Lake. Of course, no such underground river ever existed, but we did not know that. All we know was the folklore about the person who died on Fancher Lake, but his body was found in Cedar Lake!
— Coney Island hot dogs, not generic coneys, but hot dogs from the Coney Island Restaurant, be it Coney Island #1, #2 or #3.
— Growing up in Glen Park, what rambunctious kid did not get a group together, take over the street and play the game cricket?
— I have to wonder if any other 8-to-10 year old kids, besides our group, sat on the street corner (in our case, 44th Ave. and Georgia St.) for hours on end with a writing tablet and pencil copying down the license plate numbers of the passing cars? I can distinctly recall pleading with my parents for a new tablet, as all my other ones were full. I do not know what the goal of this activity was; perhaps to see who could record the most license plate numbers? I do know being able to record an out of state plate was the ultimate when it came to this activity.
— I do vividly recall, although it sounds both dumb and horrifying now, following the DDT truck on our bicycles when it came down the street! Certainly not the wisest thing to do, I have to acknowledge.
— As a youth, during the summers, it was not at all uncommon for us to walk the Nickel Plate tracks to Lake George in Hobart.
— During the summers gainful employment was had at the Gary Country Club, as a caddy. Getting to the country club entailed hitchhiking from Glen Park's eastside to Merrillville/Independence Hill every morning, and all over again at the end of the day to get home. How many parent's today, especially in Gary, would let their kids hitchhike?
— Once we got a license and wheels, we used to make trips to Chicago. The 2 most favorite things to do in Chicago were go to Warshawsky & Co. (J. C. Whitney), which had a chromed 283 c.i. Chevy engine on the floor at the entrance, and to take a driving tour of "skid row." [One does not need to leave Gary anymore to partake of skid row scenery!]
— I recall listening on the radio to Jack Eigan broadcast live, nightly, from the Chez Paree in Chicago, and to Franklin McCormack on the Torch Hour.
— One used to be able to purchase Dutch Mill (chocolate) Candies in Gary. Neither Fannie Mae, nor See's, were ever in the same league with Dutch Mill.
---
Return to: GARY PAGE
=
BLOG IT
=> [Category: Gary, Indiana - The "Steel City"]
---
Created Sunday, 10 Feb 2008 - 00:55:56 Hrs.

© 2008, G. David Yaros. All rights reserved.